Have you ever questioned why some people develop into video editors overnight? YouTube and other app users can instantly alter videos using Alight Motion, Capcut, Kinemaster or other apps. They can also add some unique elements that require professional video editing software to get completed.
Additionally, these videos often have individual characteristics that catch you off guard. The various aspects of Alight Motion vs Capcut vs Kinemaster apps get mentioned in this article.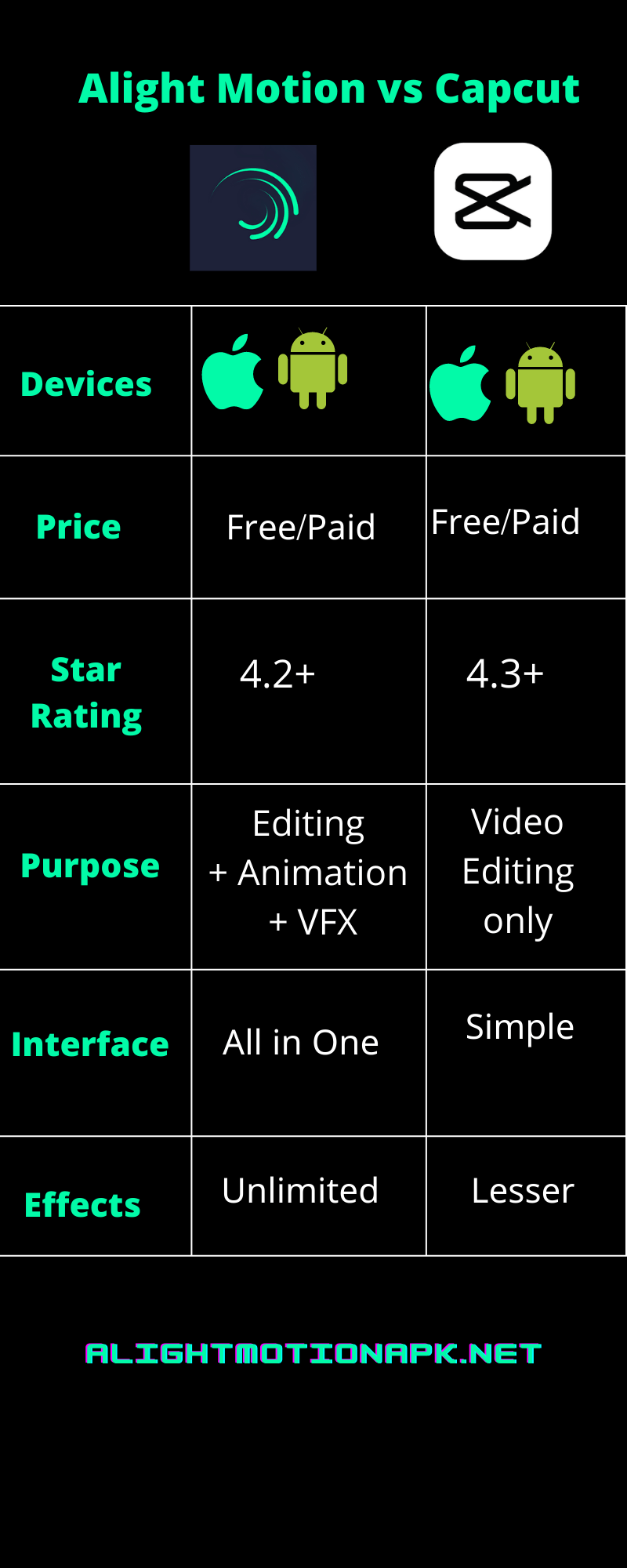 Differentiation Chart of Capcut vs Alight Motion vs Kinemaster apps:
Alight Motion
Capcut
Kinemaster
Available
online
online
online
For Android and IOS
Yes
Yes
Yes
Mainly for
Video editing and VFX
Video editing
Video editing and making videos
Interface
All in one
Simple
Advanced
Ratings
4.0+
4.1+
4.2+
About Alight Motion vs Capcut vs Kinemaster Apps:
About the Alight motion app:
Alight Motion is the first expert motion design app available for iOS devices, providing you with expert animation and effects and advanced video editing and compositing.
About the Capcut editing app:
Bytedance created the tool CapCut, formerly known as Viamaker. Also, Using this authorised all-in-one video editing program offers a music library where you may download tracks to use in your video.
About the Kinemaster app:
KineMaster is a fantastic video editing tool for smartphones, tablets, and Chromebooks. Videos get edited, spliced, and cropped, and text, graphics, and stickers get added easily.
Pros of using these video editing apps:
Alight Motion:
Capcut:
Kinemaster:
Features of these Editor Apps
Alight Motion app:
Graphics:
Users of this application will get in for a lot of surprises, from the graphics to the sound system, which is very well made and meticulously crafted. The visual variation for this application is made up of numerous graphic layer combinations. All audio and video content is uploaded in clear, uninterrupted form.
Keyframes:
Keyframes are a handy and simple tool for producing animation and Motion. The keyframe can also get used to set the route and move an item quickly.
Also, You may choose from various customising options, which is quite helpful. You can create such a beautiful animation on your mobile using this software.
Capcut app:
Sound and video effects:
Filters and Transitions:
There are several preconfigured filters in CapCut that you can change to suit your tastes. Also, Filters can get added to both primary clips and overlays.
A smooth transition is also a brief segment of a video that connects one shot to the next. It offers a range of choices, including essential, effect, mask, etc.
Kinemaster app:
No Watermark and ads:
The best-in-class app that consistently sends affected videos and removes watermarks. Also, there is no annoying advertising in the entertaining program.
Nobody would ever find out that you utilised a specialised video editing tool to add effects. If the clips get edited, it would appear that a professional got involved, which is not the case.
Altering:
You must constantly use the application known as Kinemaster as it has a fantastic and substantial Freeway of Working, so sharing and modifying videos is never an issue. An excellent alternative to choose from is the Kinemaster Diamond edition. It functions exceptionally well, and the level is consistently the best outcome.
FAQs:
What is a complete video editor?
For smartphones, there is a complete video editor called Alight Motion. Also, The videos stored on your device are utilised to their fullest potential. Flexibility will not be a problem, and there are many forms to publish in addition to simple icon switches.
What happens when one selects auto-captions?
CapCut ingeniously pre-sets text editing templates to develop required tabs, such as changing font sizes, etc., making the procedure more effective. Also, when you select Auto captions, a caption layer gets created, and all of the output captions get divided into separate graphic layers at the precise time code.
Can videos get altered using Kinemaster?
Due to Kinemaster's capability for text, photos, audio, etc., there are countless possibilities for altering videos. It is also elementary to build the visual effects and get those professional results thanks to a quick, handy function. It is utterly hassle-free to organise resources with video editing features.
Conclusion:
Lastly, For those looking for a basic, user-friendly video editor, CapCut is a fantastic option. Also, For those that require more functionality and flexibility and are more experienced, KineMaster is preferable. Alight Motion is straightforward to use.Your needs and ability will determine which app from Alight Motion vs Capcut vs Kinemaster is ideal for you, so read this article thoroughly.